SEPTEMBER 20-22, 2024
Tallaght Leisure Centre,
Fortunestown Way,
Dublin 24
Schedule
Friday 20
15:00   Registration
16:00~17:30  Session 1
18:00-19:30  Session 2
20:00  Officials reception
Saturday 21
10:00-12:00  Session 3
12:30-14:30  Session 4
15:00  Dan Grading
15:00  Referee Course
17:00  International Congress
Sunday 22
09:30   HDKI INTERNATIONAL CHAMPIONSHIP
Opening Ceremony
10:00   Competition Commences
18:00   Sayonara Party
KATA
1... 10-11yrs old Mixed
2... 12-13yrs old Male
3... 12-13yrs old Female
4... 14-15yrs old Male
5... 14-15yrs old Female
6... 16-19yrs old Male
7... 16-19yrs old Female
8... 20+ yrs old Male
9... 20+ yrs old Female
10... 35+ yrs old Male
11... 35+ yrs old Female
TEAM KATA
12... 15yrs & Below Mixed
13... 16yrs & Above Mixed
SHOBU IPPON KUMITE
14... 10 –11yrs old Male
15... 10 –11yrs old Female
16... 12 – 15yrs old Below 160cm Male
17... 12 – 15yrs old Above 160cm Male
18... 12 – 15yrs old Below 160cm Female
19... 12 – 15yrs old Above 160cm Female
20... 16 – 19yrs old Male
21... 16 – 19yrs old Female
22... 20yrs + Male
23... 20yrs + Female
24... 35yrs + Male
25... 35yrs + Female
3 MAN TEAM KUMITE
26... 16yrs + Male
27... 16yrs + Female
Guy Brodeur 8th Dan
A professional instructor, based in Quebec, Canada, Guy Sensei began training in 1979, gaining shodan in 1985. Representing Canada both for the SKIF and the All-Styles team, he gained many gold medals in his long competitive career. In 1998 he met Steve Ubl Sensei, a moment that changed his karate journey.
Since then, he has spent his time building his organization (Shotokan Canada), training regularly with Steve Sensei, developing his own karate and teaching internationally. In 2020 he brought his group into the HDKI and is now a senior member of the group.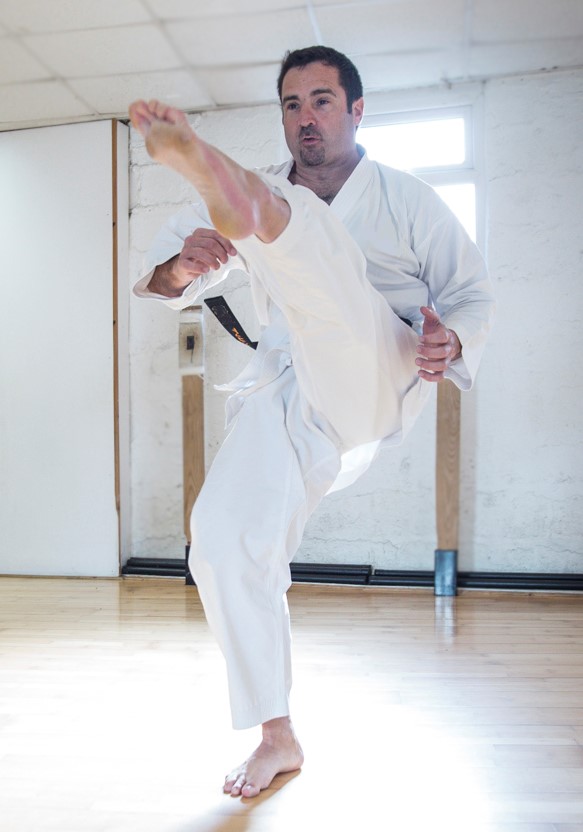 Scott Langley 7th Dan
Scott is the founder and chief technical director for the HDKI. He lived in Japan for 5 years and is now resident in Dublin, Ireland. A graduate of the famous
instructors' course in Japan, Scott has been a successful competitor with National, European and World championship titles to his name. He is the author of the best-selling "Karate Stupid" and "Karate Clever" and is in great demand as an instructor throughout the world.
Ricardo Galina 7th Dan
Ricardo Sensei has been training for four decades, starting with his parents, who were also professional karate instructors. In 2001, he left his full-time dojo and moved to Japan, were he spent the next several years training on the instructors' course and becoming a personal student of Keigo Abe Sensei. He is now Chief Instructor of HDKI Mexico and holds numerous world championship titles.
How To Arrive
AIR
Dublin Airport is 25 minutes from the Leisure Centre. Regular transport to the city centre is available and bus and LUAS links are available from there. Alternatively you can hire a taxi for about €42-€60
BUS
Take the 27 bus from the Suffolk St stop at College Green to the Fortunestown Way stop on Cookstown Road (this will be the 4th stop after The Square Shopping Centre).
LUAS
Take the Saggart route to the stop at Cheeverstown Park and Ride then walk 15 minutes down to the Cookstown Road toward Tallaght.
Useful Transport Information:
FreeNow Taxi app FREE NOW 
Aircoach - www.aircoach.ie Fast transport to/from city centre and the airport
LUAS - www.luas.ie  Dublin's light railway
BUS - Dublin Bus www.dublinbus.ie
The Weather
In September in Ireland it can be anywhere between 10 and 20 degrees Celsius. It will also probably rain at some point.
F A Q's
What is the electrical current in Ireland?  Ireland operates on a 230V supply voltage,  the frequency is 50 Hz, with three pin electrical plugs. Visitors from outside UK/Ireland will need adaptors/transformers.
What kind of electric plugs are used in Ireland? Ireland uses electric plug type G
Are Dublin taxis safe? Yes.
Emergencies: Medical care and health care Visitors from the European Union must bring the blue EHIC card - European Health Insurance
Card, which entitles them to free medical assistance in emergencies. The main emergency number is 999.
Pharmacies and chemists. They generally have a big green flashing cross outside their shop. Prescription and non-prescription medicine can be bought from pharmacies during normal shopping hours.
Top Attractions
1. Kilmainham Gaol Museum
2. The Little Museum of Dublin
3. Guinness Storehouse
4. Jameson Distillery Bow Street
5. Trinity College and The Book of Kells
6. Irish Museum of Modern Art
7. Dublin Castle
8. St Stephens Green
9. The National Museum of Ireland
10. Christchurch Cathedral
11. The National Gallery
12. EPIC - the Irish Emigration Museum
13. Glasnevin - Irelands National Cemetery
14. 14 Henrietta Street