SEPTEMBER 16-18, 2022
FORUS SARDENYA.
CARRER DE SARDENYA, 549, 553,
08024 BARCELONA
Schedule
Friday 16
18:00-19:00  Welcome and Registrations
19:00-21:00  Training
Saturday 17
10:00-12:00  Training
13:00-15:00  Training
15:00-17:00  Dan Grading & Referee Course/Exam
Sunday 18
09:00   HDKI INTERNATIONAL CHAMPIONSHIP
16:00   Sayonara Party
Guy Brodeur 7th Dan
A professional instructor, based in Quebec, Canada, Guy Sensei began training in 1979, gaining shodan in 1985. Representing Canada both for the SKIF and the All-Styles team, he gained many gold medals in his long competitive career. In 1998 he met Steve Ubl Sensei, a moment that changed his karate journey.
Since then, he has spent his time building his organization (Shotokan Canada), training regularly with Steve Sensei, developing his own karate and teaching internationally. In 2020 he brought his group into the HDKI and is now a senior member of the group.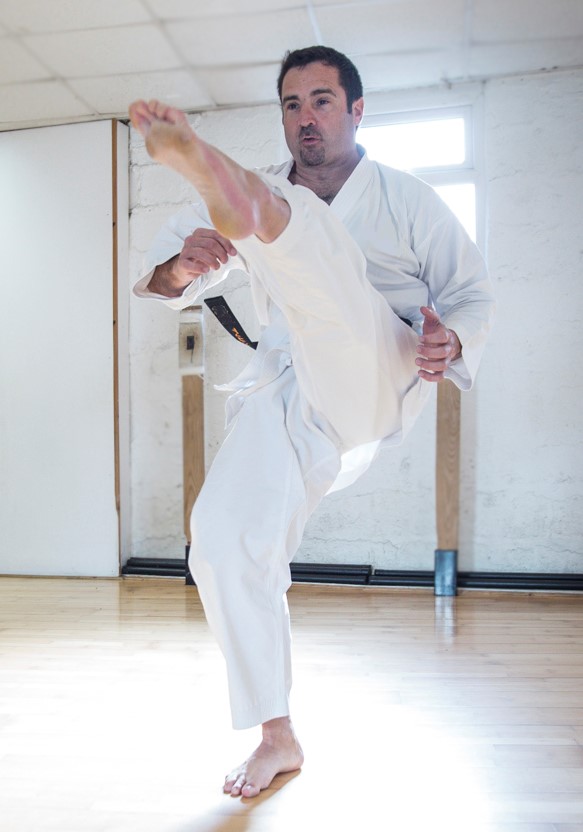 Scott Langley 7th Dan
Scott is the founder and chief technical director for the HDKI. He lived in Japan for 5 years and is now resident in Dublin, Ireland. A graduate of the famous
instructors' course in Japan, Scott has been a successful competitor with National, European and World championship titles to his name. He is the author of the best-selling "Karate Stupid" and "Karate Clever" and is in great demand as an instructor throughout the world.
Ricardo Galina 6th Dan
Ricardo Sensei has been training for four decades, starting with his parents, who were also professional karate instructors. In 2001, he left his full-time dojo and moved to Japan, were he spent the next several years training on the instructors' course and becoming a personal student of Keigo Abe Sensei. He is now Chief Instructor of HDKI Mexico and holds numerous world championship titles.
How To Arrive
1.- El Prat airport (instead of Reus or Girona airport)
2.- Then you can choose Aerobus (preferred-6€), train, metro, bus (cheaper) or the classic comfy option -taxi 30-45€-
3.- if you come with a big group you may book private transfer (write to korina@europviajes.com)
4.- the closest metro stop is ALFONS X
5.- Start enjoying your stay
What are the hotel prices in Barcelona?
Generally standard of hotels of all ranges in Barcelona is high. A good quality 3 star mid range double hotel room in Barcelona will cost from €70 to €250.
Find hotels Barcelona. For cheaper accommodation try apartments in Barcelona and hostels and 1 star hotels, which should bring the price per person down to as low as €25 a night.
WiFi Internet
Barcelona WIFI and Internet connections are now widely available in most hotels in the city of Barcelona. Most WiFI is free at hotels but connection speed can vary. Check hotel reviews to see if Wi-fi is free, available in rooms or just public areas and what the speed is. Internet cafes in Barcelona no longer exist, but there are many small local 'locutorios' who offer long distance phone calls and internet access.
A few Hotels ...
**** Hotel
Le Palacete
Legalitat, 10, 08024 Barcelona
+34 932 845 025
info@lepalacete.com
Hotel Brustar Sant Pau
Mas Casanovas 68
08025 - Barcelona
+34 932 457 844
info@brustarr.com
gbm602@aol.com
*** Hotel
Hotel Aristol
Carrer de Cartagena, 369, 08025 Barcelona
+34 934 33 51 00
info@hotelaristol.com
** Hotel
Hotel Travessera
Travessera de Dalt 121-123, 08024
+34 93 213 24 54
info@h-travessera.com
Factory Hostels Barcelona
Carrer de Molist, 5, 08024 Barcelona
+34 932 852 256
info@factoryhostelsbarcelona.com
* Hotel
Hotel BESTPRICE Gràcia
Carrer de Martí, 124, 08024 Barcelona
+34 93 461 42 60
info@hotelbestpricegracia.com
The Weather
In September it is still Summer Season in Barcelona. With around nine hours of sunshine a day, temperatures of about 26°C (78°F) in the daytime and 17°C at night it's lovely weather for shorts and tee's. On average we have only 4 days of rain during September, yes, 4 days.
F A Q's
What is the electrical current in Spain? Spain uses 220-volt AC, 50Hz electrical current with a two-pin electrical plugs. Visitors from the
UK/Ireland and USA will need adaptors and 110/125V transformers.
What kind of electric plugs are used in Barcelona? Barcelona Spain uses electric plug type C & electric plug type F.
Where is Barcelona airport? The international airport in Barcelona is 20 km from the city centre and is called El Prat. The other international airports in Catalonia are Girona/Costa Brava and Reus. There is no metro from Barcelona airport to the city centre. There is a train connection, airport bus connection or you can take a taxi or book a private airport transfer.
Barcelona public transport? Barcelona and Catalonia has a modern and well maintained public transport systems of trains, metro, buses, trams
and city bikes. Metro Barcelona opening times Monday to Thursday: 5am to midnight Fridays and the nights before public holidays: 5am until 2am. Saturdays: metro runs all night. Sundays and midweek public holidays: 5am to midnight.
Are Barcelona taxis safe? Yes.
Emergencies: Medical care and health care Visitors from the European Union must bring the blue EHIC card - European Health Insurance
Card, which entitles them to free medical assistance in emergencies. The main emergency number is 112. The number for medical emergencies is 061. To call the Spanish Medical Information Service for general information on doctors, hospitals, pharmacies etc in Barcelona call 902 111 444. Pharmacies and chemists. Chemist shops/drugstores in Spain and Barcelona are called Farmacias. They generally have a big green flashing cross outside their shop. Prescription and non-prescription medicine can be bought from pharmacies during normal shopping hours on weekdays between 9.00 and 20.00. 24h chemist shops are also open in Barcelona. An extra charge is added to medicine purchased outside normal opening hours.
What are prices in Barcelona? Bottle of beer in a local bar: €2-3 euros Drink in popular night club €10-14 euros Entrance fee popular night club €10 – 15 euros which usually includes a drink Coffee in a local bar: €1.30 - 1.75  Soft drink in a local bar: €1.75 Sandwich in a local bar or cafe: €2.50 - €4 Lunch in local bar 'Menu del dia' – 3 course set menu including drink €10-15 Good dinner in nice restaurant €20 to €60, but can be done cheaper. Cinema ticket at Original Version cinemas: €7,50
Single bus or metro ticket: €2.15; 10-trip bus or metro card: €10.20
Top Attractions
1. Basilica de la Sagrada Familia
2. Barri Gòtic (Gothic Quarter)
3. Casa Mila (La Pedrera)
4. La Rambla: Barcelona's Social Hub
5. Palau de la Música Catalana (Palace of Catalan Music)
6. Parc Güell: Gaudí's Surrealist Park
7. Casa Batlló
8. Camp Nou
9. The Magic Fountain
10. Scenic Views and Art Museums in Montjuïc
11. La Barceloneta
12. Monestir de Pedralbes
13. Mercat de la Boqueria
14. Quadrat d'Or
14 Top-Rated Tourist Attractions in Barcelona Written by Lisa Alexander.
Catalonia's vibrant capital, Barcelona is a stunning seaside city that flaunts her beauty and sunny lifestyle. Gorgeous scenery, breathtaking architecture, and superb cultural attractions make for an alluring destination. Of course, the balmy Mediterranean climate adds to the charm. Barcelona has an atmospheric medieval quarter, the Barri Gòtic, with an almost magical old-world ambience, but it's even more famous for its Modernist architecture. Antoni Gaudí left a
lasting mark on Barcelona with his avant-garde Surrealist buildings; several are UNESCO listed. After all the sightseeing, tourists will want to simply relax and soak up the city's joyous vibe. Stroll down La Rambla, where the locals hang out. Escape to the sandy beaches near the harbor, and linger over leisurely meals on outdoor terraces. Wander aimlessly and find hidden town squares, where street musicians strum melodies on Spanish guitars. Delightful surprises abound at every turn. Discover the best places to visit with our list of the top attractions in Barcelona.
Competition Categories
Each individual: total entry fee of €25 covers all eligible/relevant categories.
KATA
1... 10-11yrs old Mixed
2... 12-13yrs old Male
3... 12-13yrs old Female
4... 14-15yrs old Male
5... 14-15yrs old Female
6... 16-19yrs old Male
7... 16-19yrs old Female
8... 20+ yrs old Male
9... 20+ yrs old Female
10... 35+ yrs old Male
11... 35+ yrs old Female
TEAM KATA
12... 15yrs & Below Mixed
13... 16yrs & Above Mixed
SHOBU IPPON KUMITE
14... 10 –11yrs old Male
15... 10 –11yrs old Female
16... 12 – 15yrs old Below 160cm Male
17... 12 – 15yrs old Above 160cm Male
18... 12 – 15yrs old Below 160cm Female
19... 12 – 15yrs old Above 160cm Female
20... 16 – 19yrs old Male
21... 16 – 19yrs old Female
22... 20yrs + Male
23... 20yrs + Female
24... 35yrs + Male
25... 35yrs + Female
3 MAN TEAM KUMITE
26... 16yrs + Male
27... 16yrs + Female